Overview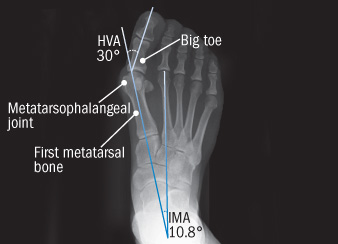 A bunion is a bony lump on the side of your foot, which develops when your big toe starts to angle towards your second toe. The bunion will eventually cause you discomfort and pain. The skin over the lump can become red, blistered or infected. A fluid-filled space called a bursa may also develop under your skin in this area and this can be painful if it becomes inflamed. This is called bursitis. The deformity of your big toe combined with a bunion is sometimes referred to as hallux valgus.
Causes
Improper footwear. Podiatric physicians have long believed that narrow, poor-fitting shoes with a tight toe box tend to compress the end of the foot, leading to abnormal motion of the foot and pressure over the MTP joint. High-heeled shoes tend to add even more pressure to the toes, as the foot slides downward. Over time, continued pressure will squeeze the toes together, encouraging the deformity. Occupational hazards. Individuals whose jobs place undue stress on their feet are among those who complain of bunions. Ballet dancers, in particular, put great demands on their toes, and thus are often subject to bunions, however, they are not alone. Many professionals whose jobs require a great deal of standing or walking (teachers, police officers, doctors and nurses, etc.) and/or who are required to wear a particular type of shoe or boot as part of a uniform, also are at risk. Athletes such as runners or walkers, who utilize the wrong footwear, may also develop bunions.
Symptoms
No matter what stage your bunion is in, you can be in pain. Though bunions take years to develop, you can experience pain at any stage. Some people don?t have bunion pain at all. Pain from a bunion can be severe enough to keep you from walking comfortably in normal shoes. The skin and deeper tissue around the bunion also may become swollen or inflamed.
Diagnosis
Before examining your foot, the doctor will ask you about the types of shoes you wear and how often you wear them. He or she also will ask if anyone else in your family has had bunions or if you have had any previous injury to the foot. In most cases, your doctor can diagnose a bunion just by examining your foot. During this exam, you will be asked to move your big toe up and down to see if you can move it as much as you should be able to. The doctor also will look for signs of redness and swelling and ask if the area is painful. Your doctor may want to order X-rays of the foot to check for other causes of pain, to determine whether there is significant arthritis and to see if the bones are aligned properly.
Non Surgical Treatment
Bunion treatment should always start with changing footwear to relieve symptoms and to prevent the bunion from progressing. Shoes with a wide toe-box, minimal slope, and good arch support can help relieve the bunion pain. Some people find that ice application and anti-inflammatory medications can help relieve the inflammation around the bunion.
Surgical Treatment
Research shows that 85% of people who have bunion corrections are satisfied with the results. However, a number of problems can arise. The big toe is usually stiffer than before. For most people this does not matter, but for athletes or dancers it is very important. As mentioned before, the big toe is slightly weaker with a bunion, and this transfers weight onto the ball of the foot. After bunion surgery, this transfer of weight can increase. Therefore, if you have pain under the ball of the foot ("metatarsalgia") it may be worse after bunion surgery, and it may also develop for the first time. Careful surgical technique can reduce this risk, but it cannot avoid it completely. Most people who develop metatarsalgia are comfortable with a simple insole in the shoe but occasionally surgery is required. In some people the big toe slowly tilts back toward the original position and occasionally this is bad enough to need to have the operation redone. On the other hand, the toe can tilt the other way, though much more rarely. Again, occasionally this is bad enough to need to have the operation redone. Infections in the wound, plaster problems and minor damage to the nerves of the toe can occur in any foot surgery. Usually these are minor problems that get better quickly. This may sound like a lot of possible problems, but in fact most people do not get them and are satisfied with their bunion surgery. However, this may help you to see how important it is to have any bunion surgery carried out by a properly trained and experienced foot and ankle surgeon.
Prevention
A lot of bunion deformities are hereditary so there isn't much you can do to fully prevent them. Early detection and treatment will go a long way in preventing the growth of the bunion and foot pain. Often times, a good custom orthotic can be very effective in slowing the progression of a bunion, but a podiatrist provides that. Waiting with bunions will worsen the condition and could lead to further complications such as hammertoes or contracted toes. Besides causing deformity, these secondary conditions can eventually cause issues with walking and affect your knees, hip, lower back. There are no lotions over the counter that would be able to actually treat the problem. There are some bunion shields that you can place on the bump to ease symptoms and pressure from shoes. However because this condition is an actual bone deformity, the over the counter option solutions are more like a Band-aid approach.
tag : Bunions
| HOME |